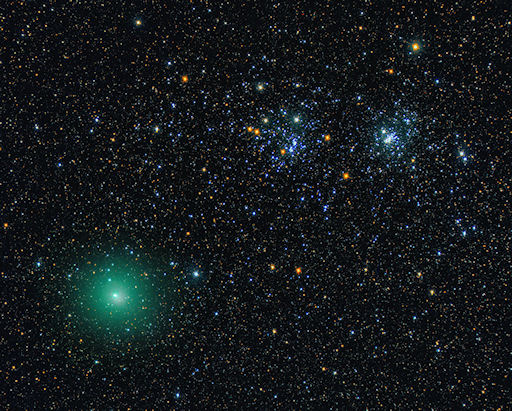 Comet Hartley 2 near the double cluster in Perseus at oct. 8, UT 22.00, taken with Newton 5,6"/f-2.9
Comet 103P/Hartley 2 continues to put on a good show as it approaches Earth for an 11-million-mile close encounter on Oct. 20th. Last night (8 October) it passed by the Double Cluster in Perseus. The contrast between the blue stars of the two clusters and the green atmosphere of the comet was remarkable.
Hier in die Vrystaat is dit teen 02:00 die oggend so 6 grade bo die horison sigbaar. Feitlik reg Noord. Dit is nou volgens my Skytools sagteware.

Het iemand hom al gesien? Laat weet gerus.